The purpose-built router optimized for 5G
NetCloud Service for SOHO with the E100 router enables mission-critical employees to work from home or outside the office with the same services, security, and ease of management. The portable router includes full-featured routing, security, traffic shaping, and Wi-Fi, making it easy to establish a secure, dedicated connection to the headquarters or the Internet to access crucial business applications.
– Extend a dedicated office network to critical remote employees without compromising security or reliability.
– Use zero-touch deployment with pre-configured router and pre-inserted SIM to speed installation.
– Integrate into existing networks with standards-based dynamic routing, traffic-shaping, security, and VPN tunnel support.
Provides a dedicated secure network with cloud-based management,
and optional battery back up to easily connect remote, mission-critical workers
The cloud-based management with NetCloud Service for SOHO helps rapidly deploy the E100 router without IT staff onsite. From a central location, dynamically define and apply policies, troubleshoot, as well as access at-a-glance status, insights, reports, and analytics dashboards. Use NetCloud to optimize routing, VPN, SD-WAN, and security capabilities on the E100 router.

The E100 router provides reliable LTE, secure connections to the Internet or though VPN support, LAN switching, and Wi-Fi 5 to enable comprehensive, all-in-one office network in a portable form factor. Maintain the organizational security and compliance profile through stateful zone-based and application-aware firewall, unified threat management, and Wi-Fi security. Leverage GPS capabilities to locate the position of the equipment and enhance asset tracking detail. Cradlepoint NetCloud Service for SOHO with the E100 router provides everything needed to connect the remote worker to their corporate applications and services they need most from virtually any location.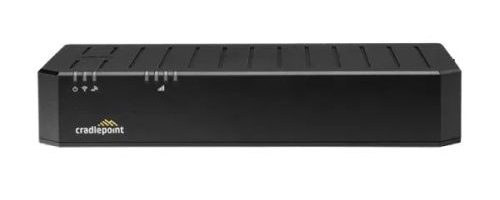 View the technical specifications for this device, including accessories and warranty information.
View the complete product description for this device, including features and benefits.
Mid-size branch & temporary sites
SKU: BHA3-0100C4D-NN
(SOHO)
PRICE: $1,179
– Cat 4 
– GPS (✓) | Wi-Fi (✓)
– 3-year NetCloud Subscription
– SOHO Essentials Plan
(Advanced)
SKU: BHA5-0100C4D-NN
(SOHO)
PRICE: $1,887
– Cat 4
– GPS (✓) | Wi-Fi (✓)
–  5-year NetCloud Subscription
– SOHO Essentials Plan
(Advanced)