MAX BR1 Mini M2M: Reliability in a small package
Protect your network with improved dependability, even within challenging industrial setting. Simplify the connection and management of your industrial machinery and IoT gadgets using this compact device. The MAX BR1 Mini M2M is designed to ensure a steady link, enduring harsh conditions, and incorporates an RS-232/RS-485 serial port. Its petite build makes it ideally tailored for facilitating connectivity for M2M/IoT applications.
SpeedFusion Features: Hot Failover, WAN Smoothing, Bandwidth Bonding*
1x 10/100/1000M Ethernet WAN
1x Embedded Cellular Modem with Redundant SIM Slots
1x 10/100/1000M Ethernet LAN
Router Throughput: 300Mbps
Features: GPIO, Ignition Sensing, Serial Communication (RS-232 /485)
Cellular Data Rate (Downlink/Uplink): CAT-4: 150Mbps/50 Mbps
Certifications: FCC,IC, C1D2, PTCRB, UL+CUL (60950-1/ 62368-1)
InControl2
Applications: Smart Meter, POS, Video Surveillance, Robotics, Quality Sensors
*Requires PrimeCare Subscription.
MAX BR1 Mini M2M: Engineered toward industrial devices
Featuring an RS-232/RS-485 serial port, the BR1 Mini M2M is your best solution to bring connectivity to versatile industrial equipment and IoT devices. The advanced InTouch technology allows for secure remote monitoring and management of your linked industrial device through a single cloud platform.
Fully Optimized for M2M in:
SKU: MAX-BR1-MINI-M2M-LTE-US-T-PRM
PRICE: $399
– LTE / CAT 4
– 1x LAN | 1x WAN/LAN* | GPIO
– GPS (🛇) | Wi-Fi (✓)
– North America
Flexibility in Power and Ports
Power the device via PoE or Micro-Fit connector, allowing for flexible installations no matter your requirements.
Gone are the days of agonizing over which cellular service to choose or
needing to manage physical SIM cards. Experience instant cellular connectivity with a subscription to our eSIM-based SFC 5G/LTE data plans. Leave the troubles to us while you concentrate on what truly matters.
Deploy more devices in the same location with no worry of network congestion. Have the option to collect data from your IoT machines from afar, helping admins save time and stay safe.
The BR1 Mini M2M is built for maintaining a stable connection while withstanding tough environments, such as factories, power plants and outdoor deployments.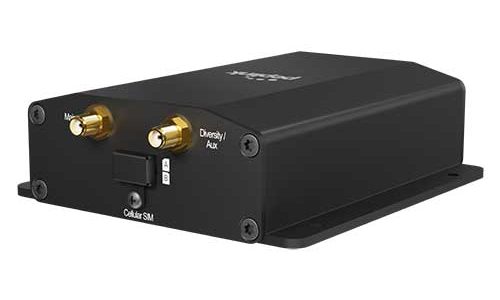 Detailed technical and design
specifications of the router