MAX HD2 Dome: Dual Cellular Router for Mobile Outdoor Deployments
The HD2 Dome provides dual-cellular Bandwidth Bonding in an IP67 enclosure that has a minimal profile on the rooftop while providing maximum signal. With redundant SIM, the HD2 Dome supports two cellular radios and four SIM cards. Combine the HD2 Dome with the SIM Injector, and the number of cards increases to twelve.
2x LTE-A Pro Modem with Redundant SIM Slots*
1x 10/100/1000M Ethernet
Antennas: 2×2 Internal MIMO Cellular Antennas, 1x Internal GPS Antenna
Rugged Outdoor IP67 (with Ethernet Splitter)
FirstNet Certified (Band 14)
*SIM Injector is available separately
Minimum Cable Loss
Cellular Signal Quality
Most outdoor deployments require a centrally placed router attached to strategically placed antennas. With the HD2 Dome, the antennas are placed in the same integrated enclosure as the cellular radios. This arrangement minimizes cable loss, giving you the best signal possible
Scalable Deployment
Easy Management
Connect multiple MAX HD1 Domes to a SpeedFusion enabled router via PoE for as much bandwidth as you want. Using Peplink's SpeedFusion technology, a mega-bandwidth channel can provide you with the fastest and most reliable internet connection anytime, anywhere.
Robust Design
Super-Duty IP67 Enclosure
The MAX HD1 Dome has an IP67 rated enclosure and certifcations of protection against water, dust, vibration, and inclement weather.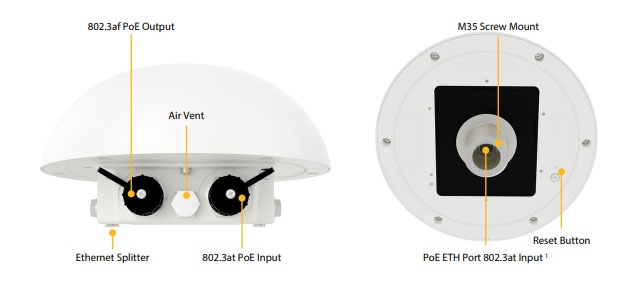 Detailed technical and design
specifications of the router
Optimal for outdoor deployments
SKU: MAX-HD2-DOM-M-LTEA-W
PRICE: $3,499
– Cat 6 | LTEA
– GPS (✓) | Wi-Fi (Ø)
– North America
 – Includes Prime Care 1-Year