MAX Adapter: State of the Art Cellular Modem
The 'classic goes sonic', why? The BR1 Pro 5G is integrated with the new generation multi-core CPU ensuring delivery of gigabit speeds. Achieving 800% faster  peeds than the original BR1 Classic.
Single LTE Modem
Redundant SIM Slot
5V USB-C
LTE Modem Downlink/ Uplink Data rate: CAT-12: 600 Mbps / 150 Mbps, CAT-6: 300Mbps / 50Mbps
Antenna Connectors: 2 X SMA Cellular, 1x SMA GPS
Carrier Certified
The MAX adapter is built to last with sturdy industrial strength designed for continuous high-traffic operations.
The light and sleek enclosure offers portability in the palm of your hands. Stay connected with two SIM slots and an eSIM. Compatible with SpeedFusion Cloud, enabling an unbreakable VPN to be built to any SpeedFusion-enabled device. The MAX adapter now offers a 5G compatible device option to bring 5G connectivity to your devices.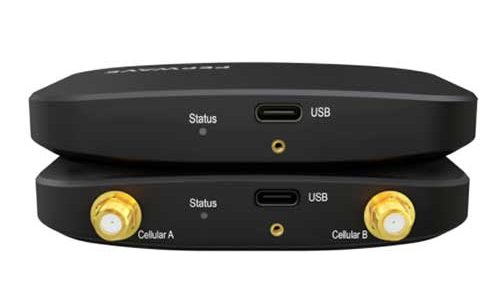 Detailed technical and design
specifications of the router
Ruggedized connectivity for fixed and mobile assets in:
PRICE: $649
– 5G / Cat 20
– Dual SIM Slots
– GPS (✓) | Wi-Fi (🛇)
– Global compatibility
Single 5G Modem
Redundant SIM Slot
5V USB-C
Downlink/ Uplink Data rate: 4 Gbps / 700 Mbps, LTE CAT-20: 2 Gbps / 150 Mbps
Antenna Connectors: 4x SMA Cellular
PRICE: $249
– 4G / Cat 6
– Dual SIM Slots
– GPS (✓) | Wi-Fi (🛇)
– Global compatibility
PRICE: $349
– 4G / Cat 12
– Dual SIM Slots
– GPS (✓) | Wi-Fi (🛇)
– Global compatibility
PRICE: $349
– 4G / Cat 12
– Dual SIM Slots
– GPS (✓) | Wi-Fi (🛇)
–  America