Peplink: Max BR1 Mini
The BR1 Mini Core is designed to function where other routers can't. It is certified for vibration resistance and rolling stock (E Mark, EN 61373, EN 50155, EN 61000). It accepts multiple power inputs and a wide voltage range. Finally, it has an optional mount for Class 1 Div 2 support, and can function in extreme heat and cold.
– Constant connectivity
– Reliable hotspot
– Deploy anywhere
– OOBM Support
With the MAX BR1 Mini, there is always a way to connect. Use a combination of cellular, Ethernet*, and WiFi WAN* to provide users with constant connectivity.
At last – an affordable, industrial-grade LTE router for transportation, digital signage, automated kiosk, and M2M deployments. From 3G to LTE, the BR1 Mini supports a wide range of cellular standards and worldwide frequencies to meet your every need. Enjoy GPS fleet, usage reports, and statistics.
Failover between redundant SIM slots comes standard on the BR1 Mini with additional failover add-on feature which enables Ethernet WAN and Wi-Fi as WAN. GPS enables you to easily track your fleets. You can offer your passengers Wi-Fi while controlling per-user bandwidth and web content. And Social Wi-Fi grants your passengers access to wireless through their social media accounts, providing consumer metrics.
You also get all the building blocks of SDN for the future Internet of Things: third party integration, API, and automation. As the IOT evolves, you can be confident your router will be ready.
*Available with add-on-license (MAX-BR1-MINI-LC-FS)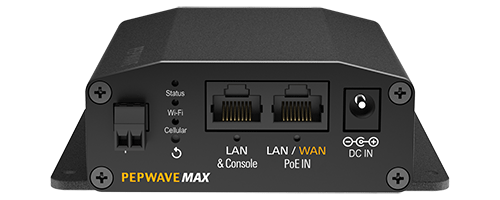 Detailed technical and design
specifications of the router
POS and business critical equipment including:
SKU: MAX-BR1-MINI-LTE-US-T
PRICE: $299.00
– Cat 4 | 4G
– GPS (✓) | Wi-Fi (✓)
– US | Canada | South America
SKU: MAX-BR1-MINI-LTEA-W-T
PRICE: $399.00
– Cat 6 | 4G LTE
– GPS (✓) | Wi-Fi (✓)
– Americas | EMEA